I've been doing some genealogy work lately and came upon the details of the death of my great grandfather.  I'd heard he'd been "stabbed" or "shot", and sometimes it was "in a bar fight" and sometimes it was "about a woman" and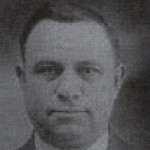 that my grandfather was a teenager at the time and quit school to support the family.  Well, about half of that is true.  It was a few weeks after (grandfather) Jesse's 16th birthday – not sure about the quitting school detail.
I was quite interested at the details they included in the articles, many that would not be today.  And the fact that justice seemed swift back then – though I don't have an article about the trial.
Five word summary to story: Stabbed in Heart with Icepick.  And if that hooked you in enough, here are the articles I found.
Dallas Morning News – 15 Aug 1923

MAN STABBED TO DEATH WITH PICK

E. L. Noble Charged with Murder Following Death of Stanley Label

Stabley C. LeBel, 44 years old, 1616 McCoy street, a salesman, was fatally injured when he was stabbed in the heart with an ice pick during an affray at 9:30 o'clock Tuesday morning at Main and Jefferson streets, near the Dallas County courthouse. Dr. W. R. McAdams of the Emergency Hospital, who was called to the scene, found LeBel dead when he arrived. Continue reading Stanley Cady Lebel: Dead Man