I took up a friend on joining her at a West Galveston beach house this past weekend.  I used the opportunity to get down there a little early and check out the Board Game Island and to ride my bike around the town and the sea wall.  Board Game Island is a cafe a few blocks off the Strand that has many board games for its visitors to borrow while there.
I had a nice sandwich while there, though they were out of bacon, what's up with that?  They also serve beer and coffee.  The beer selection was a bit minimal, and the St. Arnold Weedwacker was server almost room temperature in the bottle (likely due to the face that the waitress was quite young an unfamiliar with beer – though she did know to offer some that weren't listed in the menu.)
I would certainly love to return with some friends for a game and some refreshment.  I would love even more for someone to take on this theme in Houston.  (And by "in", I mean inside the loop.)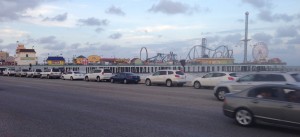 There was of course a nice Gulf breeze coming from the water, so i left my previously mentioned semi-secure car loaded with weekend provisions and had a methodical ride from the Strand area, across 23rd Street to the sea wall.
There were a fair number of people enjoying the sea wall.  A mostly overcast sky kept the heat down a bit.  I was the only one on my ride that I saw with a bike helmet on. I also was wearing my new riding goggles that I have to say I totally love. They were great in the windy conditions. No squinting, good visibility, no sand in my eyes.
This weekend was also the beginning of paid parking on the seawall ($1/hour, $8/day, $25/year) and there were lots of signs covered up with plastic on Friday evening.
When I got down to the 2800 block, I noticed a bar I hadn't seen before. Not far from the iconic Poop Deck and set back a bit from the wall on R 1/2 St., the Beerfoot Beach Bar is a smallish beer bar with excellent selection, pool and foosball tables, and a few of their own brews.  I haven't been to Galveston in a while, but it's the best selection I've seen there. Apparently a Yaga's production.
I made a note and after getting a few more miles in and cycling back through the neighborhood I parked my bike and checked out this little place.  There were signs for Saint Arnold BOI Blonde. I wasn't quite sure what that meant, but settled in, ordered a beer (Tip Your Porter) and started soaking up the place.  After a while I noticed some Saint Arnold employees (ones I don't know personally, but which I recognize) hanging out.
I ordered another porter (Black Marlin Porter), and met some Beer Knurds from Dallas/Addison. Ever met strangers and shared tastes of your beers? Yeah, that happens with beer nerds.  Beer Knurds are those that drink at the Flying Saucer and count their variety whilst getting plates plastered to their walls for their achievements.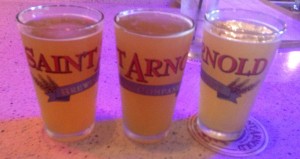 By that time I had inquired to the BOI Blonde.  The brewers at Saint Arnold came down to the brewery at Beerfoot and brewed a beer. A hoppy, foggy pale ale what was quite tasty.  BOI is Galveston Island slang for "born on the island".  All other beer served there would merely be IBC (island by choice).  And it was release night for the beer (thus perhaps the fogginess – being a wee bit young).
Only a few sips later, I, sitting in a bar I was previously unaware of, and only serendipitously present in, 55 miles from my house, bumped into my good friends Sean and Nena.  They are, of course, beer friends foremost, but I've now known them for decades.
The chances of the encounter had Sean and I wondering: at any given beer bar in Texas how long would we have to sit before someone one of us knew entered?  I wonder if I could do a mathematics masters project on that subject.
After getting in on the BOI Blond tasting I saddled up rode back to the Strand to get my car and head west toward San Luis Pass.