I've been doing some genealogy work lately and came upon the details of the death of my great grandfather.  I'd heard he'd been "stabbed" or "shot", and sometimes it was "in a bar fight" and sometimes it was "about a woman" and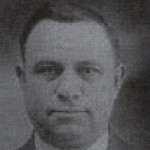 that my grandfather was a teenager at the time and quit school to support the family.  Well, about half of that is true.  It was a few weeks after (grandfather) Jesse's 16th birthday – not sure about the quitting school detail.
I was quite interested at the details they included in the articles, many that would not be today.  And the fact that justice seemed swift back then – though I don't have an article about the trial.
Five word summary to story: Stabbed in Heart with Icepick.  And if that hooked you in enough, here are the articles I found.
Dallas Morning News – 15 Aug 1923

MAN STABBED TO DEATH WITH PICK

E. L. Noble Charged with Murder Following Death of Stanley Label

Stabley C. LeBel, 44 years old, 1616 McCoy street, a salesman, was fatally injured when he was stabbed in the heart with an ice pick during an affray at 9:30 o'clock Tuesday morning at Main and Jefferson streets, near the Dallas County courthouse. Dr. W. R. McAdams of the Emergency Hospital, who was called to the scene, found LeBel dead when he arrived.
E. L. Nobles, 37 years old, 2826 Oak Lane street, proprietor of a mattress factory, went to the Criminal Courts building immediately following the affray and surrendered to District Attorney Shelby S. Cox. In a statement to Mr. Cox, Nobles said he stabbed LeBel "after being knocked down two or three times by LeBel."
Nobles was charged with murder in a formal complaint filed in Justice F. H. Alexander's court, after which he was taken before the Dallas County grand jury. Thursday was set by Justice Alexander as the date for preliminary hearing of the case. No bond was sought Tuesday by the Accused man.
and a day later . . .
Dallas Morning News – 16 Aug 1923

Nobles limped when he appeared at the courthouse. He said he was injured several months ago by falling from a house.
In a statement to officers Nobles said that he has been living apart from his wife for some time. He said that LeBel has been in his employ and that he asked LeBel not to converse with his wife He said that he was attempting to avoid meeting him when the affray occurred Tuesday. Nobles said that he found the ice pick on the street Tuesday morning after leaving a bank.
After making his statement to District Attorney Cox, Nobles was taken by Deputy Sheriffs Hall Hood and Walkter Taylor to the office of a physician, where he received treatment for lacerations on his forehead and face.
The body of LeBel was prepared for burial by the Loudermilk-Sparkman Undertaking Company. He is survived by a wife and four sons.
LeBel is survived by his wife and four sons, Andrew LeBel, Charles LeBel, Jesse LeBel and Ernest LeBel, and three brothers, E. E. LeBel of Fort Worth and W. W. LeBel and G. E. LeBel of Los Angeles California, Cal.
Funeral Services will be held Wednesday afternoon at 4 o'clock at the Loudermilk-Sparkman chapel, the Rev. P. O. Salee officiating. Burial will be at Oakland Cemetery.
As an aside, it seems that affray is a legal term. Though I suspect it is being used literarily by the newspaper.  I also wonder how much the "converse with his wife" was contemporary euphemism.
For completeness, the 4 male offspring:
Andrew Franklin Lebel (1903 – 1990)
Charles Edward Lebel Sr (1904 – 1985)
Jesse Loran Lebel (1907 – 1994)
Earnest Arthur Lebel (1910 – 1990)
and 3 male siblings:
Charles Eugene Lebel (1870 – 1934) (not E. E.)
Edward Carlton Lebel (1877 – 1929) (not G. E.)
Stanley Cady Lebel (1880 – 1923)
William Wright Lebel (1882 – )
There were also 2 female offspring, not named in the article, who were 9 (Gertrud) and 15 (Florence) in 1900.  I can't find any information about them after that. Don't know if they pre-deceased him or not.