I managed to get a week off of work and went to my 4th BoardGameGeek convention in Irving at the Westin DFW. It's the 6th time the con has been put on, and it has grown to take over all their convention facilities and have 1100 attendees. It was likely less than half that when I first went, but it's doesn't seem vastly larger. They have also become very good at making it look like they aren't working hard to make things happen.
Despite the fact that the con was one day longer this year, and we got there a day early, the week seemed to blaze by and there were lots more games I wanted to play that I didn't get to. Upon retrospect I played quite a lot of games.
The following list is not chronological, but grouped mostly into styles and my thoughts of them before and after the con.  There is a large industry convention in Essen, Germany a month before the BGG.Con.  It creates a lot of buzz about new games, and I usually arrive with a list, whether mental or physical, of things I'd like to try.  Even so, for the most part, I go with the flow and let games find me.
I did manage to find some of those on my list and get them on the table.  Others I didn't for one reason or another.
Game of the Convention: Tichu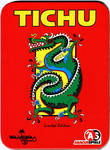 Tichu is actually a card game, and one I play quite often.  I have the opportunity to play most Sundays at our friendly gathering at the local watering hole.  We've infected about a dozen people with the game, and often will have 4 there to play.  I also recently infected one of my weekly game attendees (who already liked Tichu) to come to our week end gathering.
I originally was tipped off to Tichu at the con, but haven't started playing it whole heartedly until the past year.  This year was the first year for them to have a Tichu tournament, and interest was so high the 32 2-person team brackets filled up instantly.  They doubled the size of the tournament.
I teamed with TG and we won our two first games and lost our third, which allowed us to make it into the 14 team, single elimination bracket.  We lost out first game there (to the team that ended up winning the tournament).  Every game we played was fun.  And I played before and after the tournament as well, with and without TG.
A 4-player partnership game that's really a lot of fun!  I learned that I have been getting better at playing it, and that there's a lot further to go on that road.
On My Radar, On The Table
I got a reasonable number of the games I was interested in on the table and played.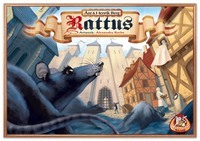 Rattus (2010, Henrik & Åse Berg) was one particular game on my list that I really wanted to try.  A new Essen release, it was on a lot of people's list, and was in and out of the library quite frequently.  I got it once, read the rules, and was tugged into another game.  To be polite I checked it back in while I was playing.  I didn't even get it back to the shelf before someone took it out of my hand to check it out again.  I managed to get it again later in the week and teach it to some others.
The Plague is overtaking Europe.  This is a 30-45 min. game and you are trying to get the most people to survive the plague.  It's quite fun, a great filler (what we gamers call the mid-length ones), simple to play, with some reasonably challenging strategic options.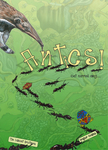 Antics! (2010, Gordon & Fraser Lamont) is one of the games I wouldn't have been aware of from casual coverage of Essen, but I did run across when I was scouring the lists of new games.  I liked the theme and design, relative length (60-90 minutes), and after playing it I really liked the action selection mechanism.
In the game each of up to four players is an ant hill, hatching new ants, running out to grab bugs and leaves, and return them to their hills.  All the time building up their ant hills, which defines the other actions you can take in the game.  And beware of the anteaters.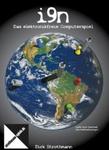 i9n (2010, Dirk Strothmann) Pronounced eye-nine, the name is a shortening of information and it is a deduction game.  I have a love/hate with deduction games (Clue (1948) being the best known) and Code 777 (1985) being my most recently played.  I'm pretty good at them, but they often come down to being a stiff numbers game.  Is there actual strategy, or does your opponent just have better information? Is there theme, or just a unique way to "crunch the numbers".
Code 777 is definitely in the "crunch the numbers" side, and i9n does a really good job of putting you in the theme of the game.  It also has a quite unique punchcard system, calling itself a "paperback computer board game".  I'm very happy I played it (twice), but I can't imagine wanting to play it a lot except to introduce such a unique game to others.
There are 6 traits of the ultimately valid oil well, and you start out the game knowing 2 of them.  But not exactly the same 2 others may know.  This is the biggest "what he knows v. what I know" of the game and can certainly make a difference as each of the other traits is or isn't possibly revealed to everyone.
7 Wonders – (2010, Antoine Bauza) This game was screaming loud and clear from Essen.  There was a lot of buzz about it.  The version I played at the con was actually a pre-production version (though still pretty good).  There were two tables of this one in the "hot room", and they were always full.  One good thing: it plays rather quickly; one downfall: it makes you want to play "one more time".  Thus, it was hard to get a play of this one.  Late in the week I finally did.  Get 1 play.  Only to have 7 people take the table from us afterward.
I quite enjoyed it, I appreciate that it will play equally well up to 7, without too much difference.  And it fills the "Civ. building itch" in a relatively short game.  For its extendability to 7 in a realm where 4-5 player games dominate, I think it is useful in a game collection.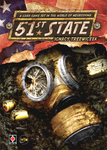 51st State (2010, Ignacy Trzewiczek) This post-apocalyptic themed card game had a lot of buzz from Essen as well, though I was not particularly pressed to try it out. It presented itself to me though, and so I did end up playing it.  Friend Greg taught this one (his a wizard at reading rules, and this one is slightly lacking). It was as I expected from my of the (generally raving) reviews.  Reminded me of Race for the Galaxy (2007), but with the addition of a lot of counters that get temporarily used each turn (and some that are kept). I'm not a huge fan of Race and, though I really liked the art and the theme, did not enjoy this game either.
A lot of people compare this game to Glory to Rome (2005) because it uses one similar mechanic of providing cards with different information on difference sides.  When you "tuck" the cards above, below, or on the sides they can indicate different things.  I feel that Glory's use is much more elegant and obvious that that in 51st State. And the game play otherwise doesn't remind me at all.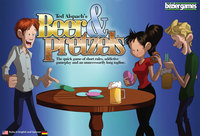 Beer & Pretzels (2009) I came across this one whilst checking out this year's releases, and got it to the table late in the week when there was an evening lull and we had people standing around.  It has one of the best descriptions on The Geek (likely from the box) and demanded being played. We procured one of the bar-height tables in the open area and made play.  It had the "purple expansion" in it, so we had 6-players.  (The Purple Expansion rules included "you should constantly make fun of the purple player. they're purple!")
I quite enjoyed it, and everyone had fun with it.  Even the ones who said they didn't like it.  We "gamered" it up, making everyone throw their coasters onto the table from the same location.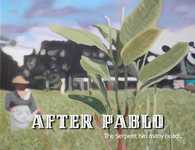 After Pablo (2010, Nate Hayden) I ran across this one in my pre-con snooping, and the uncommon theme made me have to try it. Trying to become the strongest drug runner in the power void after Pablo Escobar's death.  Three sections of the board: Colombia, Mexico, The Border. A variety of things to do.  Upon reading the rules, I thought I would enjoy it.   But somehow the game play just seemed to bog down.  Resource scarcity is common in the games we play, but it seemed overwhelming in this one.  I really would like to play this one again, but I'm not sure I'd put it on my "to buy" list.
Before we got to playing, a friend of the designer's came over.  I'm sorry I didn't run into him again, because there are several questions I had for him (most have faded since the play).  We were thinking that particularly we didn't use enough DEA Favors to balance the game out – the brutal randomness took the balance out of the game when/how we played.  We also played with three players, and I think four would be preferable.
There's a lot more in my list.  I'll get to them later.