The fall television seasons are kicking themselves into life. Hulu makes it much easier to catch the many pilots flying furiously past. The 2002 Alice Sebold book The Lovely Bones seems to have it's hand heavily on a new offering from ABC: The Forgotten.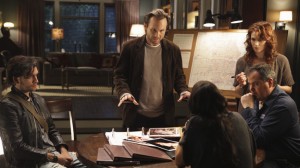 I recently finished watching the two seasons of Dead Like Me on Hulu.  That show started in 2003, and has been likened to The Lovely Bones because the main character is a young girl who dies and continues to watch over her family.  It differs in that the main character is living an afterlife as a grim reaper rather than just watching over the family.  The Showtime broadcast of Dead Like Me was quite good, particularly because they weren't limited in their language by US broadcast television standards.
Now there is a movie adaptation of The Lovely Bones in post production, directed by Peter Jackson (of Lord of the Rings) no less.  With that in the collective consciousness, this new ABC series presents itself.
The main character in The Forgotten is played by Christian Slater.  The role is a much better one than his last: My Own Worst Enemy, which started repeating itself in the second episode and luckily didn't make it past nine episodes.  It's also available on Hulu, please don't waste your time.
The pilot was done well, but I think it could have dropped most of the partial narration by the dead girl.  It almost comes off as a clash of two stories.  Are we trying to tell the stories of the volunteers searching for the identities or are we there to hear the story of the dead?  I'm also wondering how many of the public will liken next January's movie to the series that started this September.