Center Point Energy's web site is stupid for not providing me the ability to schedule a payment. They send me the bill two weeks in advance and I can either "pay now" or try to remember to pay closer to the date, forget about it, pay late, get reported for late payments, get dinged on my credit score …
One thing they do have is this nifty histogram of my natural gas usage. I lost my water heater in June, and that was the only thing using gas. I didn't much notice it at the time, but I was paying something for a small leak that bloomed into a massive leak one friday night in August.
My very leaky house peaks at heater usage in December and January obviously.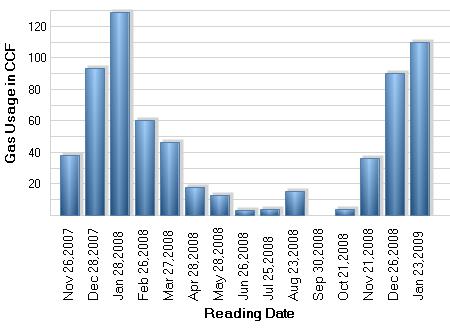 And if you'd like to see what that costs me, here in Houston, here's that data…
Reading Date
Meter
Reading
CCF
Gas
Charges
Jan 23,2009
240
110
155.58
Dec 26,2008
130
90
129.31
Nov 21,2008
40
36
58.39
Oct 21,2008
4
4
16.36
Sep 30,2008
0
0
11.10
Aug 23,2008
1634
15
33.26
Jul 25,2008
1619
4
17.01
Jun 26,2008
1615
3
15.54
May 28,2008
1612
13
26.02
Apr 28,2008
1599
18
32.31
Mar 27,2008
1581
46
63.82
Feb 26,2008
1535
60
79.84
Jan 28,2008
1475
129
149.57
Dec 28,2007
1346
93
110.94
Nov 26,2007
1253
38
51.91