Between today and the last time I was at the Continental Club, with the El Orbits, and letters and numbers, it's been a while.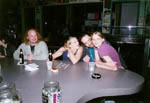 I saw quite a few familiar faces last night, some whose names I know, and some I don't. Virginia O, Pete G, Allen H, Thomas E, Bob S, Lance, Mark & Catherine, Jennifer N, Christopher, Adrian, Squid.
Nothing used to keep us from the Satellite Lounge and the El Orbits. Do you remember Ally McBeal? We skipped out on that skinny fad. Instead we had a Lonestar and/or a martini with our lounge music and new Houston friends. I met more than one friend that I still have to this day on a Monday night with the El Orbits!
Going out on a weeknight has been a bit unfamiliar of late. It used to be my standard operating procedure. Now, I like my sleep. I have a commute.
Others need to start coming out on Monday night again, enjoying the evening. You can leave by 10:30 or 11:00 and still get plenty of sleep for that tuesday morning meeting.