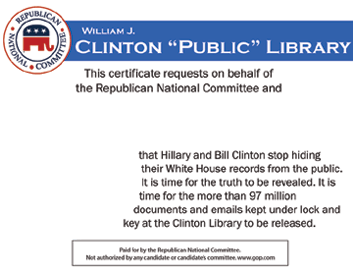 The Republican Party over on the GOP.com are asking for you to sign a petition (quick follow the link now) to open up Hillary Clinton's library (by which they mean Bill Clinton's presidential records).
I'm sure they realize that the Bush Administration, when they came into office in 2000, locked down all the Reagan era documents that were all due to start being released (20 years later) according to law.
Of course, some (lots) of the current administration were working in those times, and letting panty-raiding liberals dig through their dirty laundry would be undesirable politically. So National Security was invoked.
Generally speaking irony is lost on politicians.