The third president, twelve years into a new government, Thomas Jefferson had plenty of work ahead of him when he came into office. He presided over the Louisiana Purchase, the Lewis and Clark Expedition, and the addition of the Ohio Territory to the Union.
Born in 1743, Jefferson became president in 1801 (age 56), presided for eight years, and lived seventeen years longer dying in 1826 (age 83), a few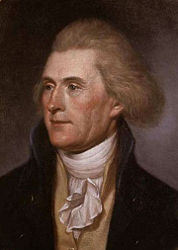 hours before John Adams, 50 years to the day after the Declaration of Independence was signed.
Experience:
born and raised in Virginia
began studying Latin, Greek, and French, age 9
received classical education, heavy in history and science, age 15-16
College of William & Mary, studied mathematics, metaphysics, and philosophy, graduating with highest honors, age 16-19
studied law under George Wythe, age 20-24
admitted to the Virginia Bar, age 24
Wrote A Summary View of the Rights of British America in 1774, age 31
in a twist of fate, named to replace the intended but sick original author of the Declaration of Independence, age 33
Virginia legislator, drafted 126 bills, age 33-35
Governor of Virginia, barely escaped British capture, generally disapproved of, age 36-38
minister to France, age 42-46
Secretary of State, under Washington, age 46-49
co-founded the Democratic-Republican party, to counter the Federalists
spent Washington's second term opposing him and Alexander Hamilton, and encouraging James Madison
lost 1796 election, but became Vice President, age 53-56
After his presidency, Jefferson founded the University of Virginia. Much of the design and architecture was led by him, and he was involved in it as much as possible in its early years.