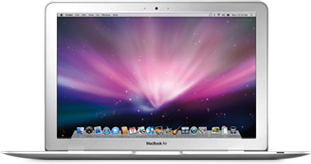 Apple rolled out it's January surprises today. The MacBook Air is fabulous and super pretty, but I'm not so much of a mobile computer, so I'm not really tempted.
The new AppleTV at $230 is tempting. And the iPod Touch now with Mail is also tempting.
What I'm really wondering is if the MacBook or Mac Mini are up for an update any time soon. They've both had minor upgrades recently, but no real redesigns (which the MacBook is due for).
Next month's iPhone Software Development Kit will be interesting.