Last Friday, Tricia (aka Ruth Ann) and I had a one-day road trip to see James McMurtry at Gruene Hall. We first went to my dad's place on Canyon Lake. Hung out and chatted. The water is very high and the gates are wide open, so we went down the 306 side of the river.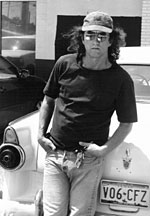 We met up with Faithe, who recently moved to San Antonio, at the Grist Mill and had a nice meal. We noticed that James was eating a few tables away. Tricia had a chat with him for a while, and we all said hi before we left. He mentioned we should go down to the river to check it out.
The Guadalupe was flowing over the bridge just down the street, and quite a torrent it was. We headed back and caught the Ded Ringers. We both quite like this young band from Austin. Good songwriters for being so young.
Most of the perimeter and picnic table seating was taken when we went in, so we stood back from the stage near the sound board. Becky (aka Lynn) and several other friends (including James' girlfriend) showed up during the opening band. Between sets a very tall boot wearer asked us if there was "any reason we were standing here?" It being the implication that we were blocking he and his wife's lazy asses view in the back of the room.
A bit later we walked off to get some drinks and she applauded our exit. Of course, several minutes later we had all returned. I never bothered looking back at them; I didn't really care. We knew of course, that the entire room would be full of standing attendees (and it was) and we'd be closer to the stage (and we were) later in the evening.
James stopped by to chat with us before they played and he's a rabble rouser. We told him the story and he was highly annoyed. He mentioned it later during the show, but most of the group was outside cooling off, because it was a bit after the highlight of the night.
Tricia and Becky like to dance with James on one of his more well-known songs (though it appeared that the crowd knew most of the songs) Choctaw Bingo. James and his bass player always enjoy it as well. They joined him on stage just as the aforementioned aliases are about to be mentioned in the song. By the time it was over they were both covered in sweat.  The whole night was a fabulous show, but that was definitely a fine accent.
Afterward James credited them as from Continental Clubs Houston & Austin. Quite a few people came up to them afterward saying how much they enjoyed it.