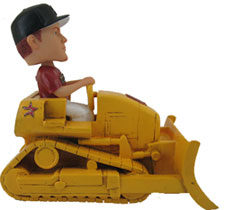 A friend just called me up with an extra ticket to see the astros. Ends up my favorite pitcher is returning from injury to pitch against Maddox. And they're giving away bobble head dolls with him in a bulldozer. I don't know what that's about, perhaps the promotional sponsor is a construction company.
3pm game, televised on Fox
Go, Roy! (I hate Maddux.)
Maddux struggled in the first and gave up 3.  Roy left the bases loaded with 1 unearned run in the first.  That was all the scoring there was to be.
I was there an hour before the game and at least 30,000 of the sall out crowd was already there.  No bulldozer bobble for me.