If you're a fan at all of live music, this is the weekend you have to go out. . . on Sunday!
The Houston Press Music Awards Showcase is the best bang-for-your-buck on music anywhere in Texas! I've been to many a SXSW, this year it cost me $130. I've avoided many an ACL Fest – they're overcrowded and underserved.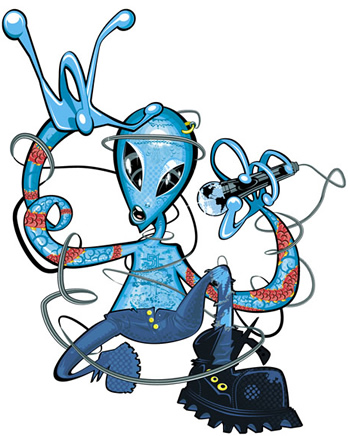 At $10 (2 for $15 if you buy early), the HPMAS is a 6-hour, 13-venue juggernaut. It provides a great cross section of the huge variety of music that can be found week-in week-out in this city, but here you don't have to go looking for it. If you miss this one, you lose all authority to whine about Austin getting good music festivals come Labor Day.
Here's a map I made – couldn't find one on the Press' site.
A quick reading of the one paragraph descriptions of bands should help you on your way. Or, you can hit your old favorites. I guarantee that at least one act/venue won't be what you want, so be ready to exit and hit the second one on your list. Or know where all the venues are and go to the next closest one. See a random band. You might just like it.
The Houston Press has once again shown an inability to grasp that the grid is the ideal layout for a festival lineup. I sent them a nasty email last year. I guess they sent that to the bucket.
Oh, and if this alien mascot is on the t-shirt for this year, I'm gonna hafta get one.
From their site: "Band names, venues & times subject to change". Be warned, the bands' names are subject to change!