I was twice riding my bicycle downtown in the past two weeks to experience several blocks of downtown closed to traffic. It was obvious it was a movie or TV shoot. I had an agenda, so I didn't linger to find out.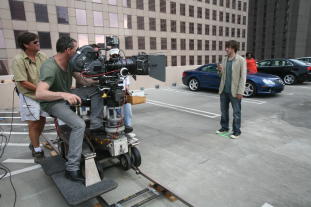 I was almost right; it was a TV commercial shoot. For German cell phones.
There was an article about some of the reasons that Europeans and Asian like doing photo shoots in Houston. One of the reason was many reflective buildings that do a very good job of lighting automobiles.
So, apparently the Europeans like the "look" of Houston. They may not know it, but their marketeers do.
The whole story is worth reading:
Lights, Camera, Houston!

Producers of commercials say architecture is photogenic

By TINA MARIE MACIAS
Copyright 2007 Houston Chronicle
June 4, 2007, 10:01AM


Around lunch hour, strolling down Travis Street, it's fairly normal to see pedestrians slowing traffic as they cross the street, talk on their cell phones and move at a bovine pace.

But recently it was a little slower than usual at Travis and Rusk. Maybe it was the variation of He's Got the Whole World in His Hands blasting on the corner. Or the screens covering the sidewalk, or the large video camera blocking pedestrians' stride. Something strange was happening.

The largest telecommunications network in the world, Vodafone — its U.S. arm is Verizon Wireless — was wrapping a five-day shoot for a German high-tech phone/wireless device, said production coordinator Kyle Weygandt, whose local company, Amazon Films, helped with the shoot.

"A lot of European companies like to use Houston because it has a new and old look to it," Weygandt said. "It's just a variety of looks."

Houston Film Commission executive director Rick Ferguson said many European companies want to film here because of the the uncluttered skyline and architecture.

A German-language BMW commercial was filmed in Houston in April. Auto companies, in particular, love filming commercials in Houston, Ferguson said. That's because the city has "so many high-tech and modern buildings that have reflective surfaces." The good lighting off the buildings can make the car look great from all angles.

Over the past three years, about half of the 192 commercials that have gone through the Houston Film Commission — which represent about 50 percent of the ads filmed in the city — have been for European or Asian products.

Foreign directors, Ferguson said, like the city's versatility, the cooperation they get from public officials and the way the downtown skyline looks from Allen Parkway or Memorial Drive at the "magic hour"— right before dusk when the lighting is perfect.

About 500 feature films, television movies, miniseries, TV pilots, music videos, commercials and documentaries were shot in the Bayou City from 2004 to 2006, Ferguson said.

The Vodafone commercial was particularly complicated. Between securing traffic, park and animal permits, scouting locations and talking to local business owners, it took weeks to plan the shoots.

Shooting began May 19, when production shut down the intersection of Rusk and Louisiana for two days. It continued with filming in Memorial Park and at Travis and Rusk.

Stylist Sally McDermott said Houston worked well with the commercial's story — a man goes through the city and experiences a variety of problems but still always has Internet service on his phone.

Thus the new take on He's Got the Whole World in His Hands. "He's got information in his hands/ He's got the whole world in his hands."

McDermott is originally from South Africa, and she now works all over the world. The Vodafone ad was her first job in Houston.

She gushed about how phone-friendly the city was, how great the people were. She loved the seamstresses and the shopping. "The Galleria," she said, "is just fantastic."