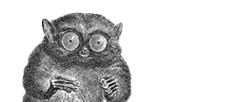 I L.O.V.E. a good t-shirt.
And Jennifer was wearing one tonight.
"I'm blogging this" on the front.
It was geek-tastic.
As I was chatting with her, I had to glance to the back of her t-shirt. See if there was anything there. Indeed there was. www.oreilly.com My first thought was Blender Rebublican Extraordinaire found a cool shirt from Bill O'Reilly? He's the anti-Elvis; he's got no cool.
But, in my several years of non and under-employment, I forgot about the best manual publisher ever. O'Reilly. I love reading technical manuals more than any geek I know. And O'Reilly does 'em good.
Hmm, I think I'll go curl up with a good perl or sendmail right now.
-b