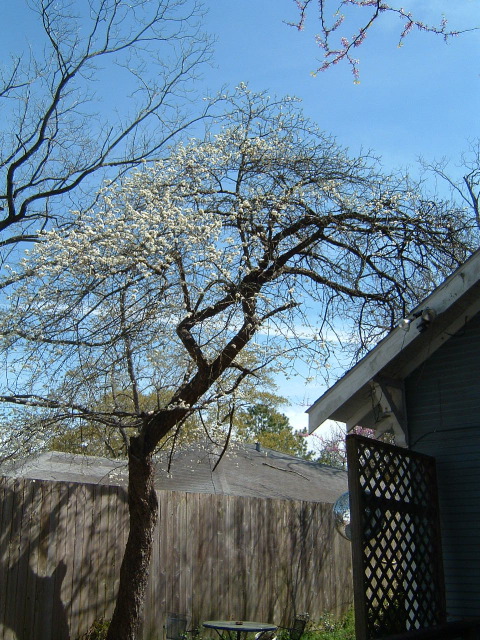 Rosaceae Prunus mexicana This understory tree is native, though sparse, to the hill country.  This one seems to thrive here in Houston, and the few others i've seen do as well.  Though all the others i've seen are under 20 years old, while this one is likely 50-80 years old.  It's actually showing signs of age, losing some limbs a few years ago.  And there is some dead wood on it now.
I've got a new one (4-5 years old) growing 20 feet from this one to eventually replace it.  The young trees don't bloom.
The fruits that the tree produces are about the size of a quarter and get mealy and fall off.  Unripe, they are quite bitter.  I've always wanted to make a plum wine/mead with them.  The squirrels and birds definitely enjoy the plums, which are around through the beginning of the hot summer – they provide good moisture for animals through droughts.
When this tree blooms it is amazingly fragrant.  When the sun is out hitting it, the whole driveway is perfumed.  If it's warm enough, the open windows let the fragrance in.  This year had a long bloom (still out).  If we get heavy winds or rain after it starts to bloom, they are all knocked off.
The rotting-on-the-ground fruit attracts certain types of butterflies in the summer.  The pits these things drop are like petrified skittles, quite painful to the bare foot.  They sprout quite well, with 100s of little treelings a year, but not many of those last a full year.
This past weekend, there was a nice clear day, with blooms open.  Standing under the tree you could see 100s of honey bees and hear the buzz.  As I walked through and squatted in the wood sorrel in the back yard, I was also surrounded by bees.  It's bee-buzzing time of year.