Truckstop Honeymoon opened up for Split Lip Rayfield last night at the CC.  A two piece hillbilly bluegrass band.  Washtub bass, and banjo.  I enjoyed them thouroughly.  Katie was 8 months pregnant.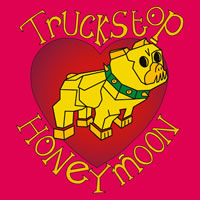 "THERE AIN'T NOTHING NICE ABOUT TRUCKSTOP HONEYMOON. THEY PLAY BANJOS AND WASH TUBS. THEY SING HELL-BENT SONGS ABOUT JESUS AND ADULTERY. THEY SING FROM THEIR STOMACHS.
[…]
TRUCKSTOP HONEYMOON PLAY BREAK-NECK BREAKDOWNS OR WALTZS. THEIR MUSIC IS LIKE A DODGE WITH A BURNT OUT CLUTCH: IT HAS TWO SPEEDS AND NO REVERSE.
MP3's
Neighbor's Lot
Crazier than You
good, fun, stuff,
-b